1. Possible Small Hail with Storms Today – Fire Blight Caution; 2. Bitter Rot Prime Time for Infections Is Now – Hot and Wet Weather
1. NEAR WINCHESTER VA: Current weather forecast for locations near Winchester, Berryville, Strasburg, and Syria, state that storms are possible around 12:00 pm with gusty winds and small hail possible. Hail and wind gusts can contribute to trauma blight and severe fire blight spreading to other locations. If in your or in neighboring orchard you are seeing symptoms of fire blight be ready to apply streptomycin up to 24h after the storm started and if you had hail affect your orchard. Fire blight inoculum is readily available on many locations in Virginia – either as random blight strikes, cankers on wood, rootstock blight, or a more spread out but uniform infections on strikes. Since it is possible hail occurrence will vary highly from location to location wait to see if hail or wind gusts actually affect your location and then decide on applying this spray application. Even if you do not get hail and winds are violent, there is a chance fire blight can reach your orchard from a relatively distant location. If you used captan recently, DO NOT add Regulaid to streptomycin for this emergency spray. Keep in mind that hail can damage not only fruit but bark on twigs, shoots, branches and trunk, opening wounds that can be infected with fire blight and lead to trauma blight. If you had a history of fire blight and hail storm does occur on your location, this spray is essential. For other locations that had no fire blight history, bear in mind that strong gusts can carry fire blight inoculum from relatively distant locations to (your) location that had no fire blight in the past. Even shoots that are no longer growing due to terminal bud set can get an infection after hail. Hence, if storm described below happens and catches your orchard, make sure you spray streptomycin as soon as hail rain stops. Hail damage is the only time during summer and after bloom when streptomycin application is warranted. Aside from hail events, use of streptomycin at any time during summer, especially if you see fire blight symptom is strongly discouraged as it will lead to streptomycin resistance in Erwinia amylovora bacterium populations, making it ineffective. The complete hail warnings as screen shots are inserted below.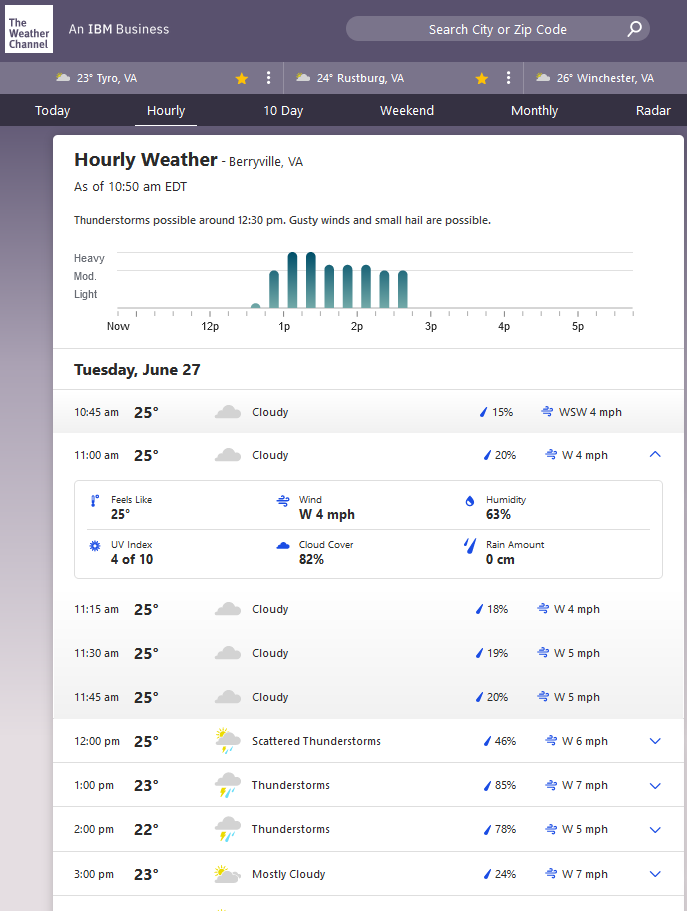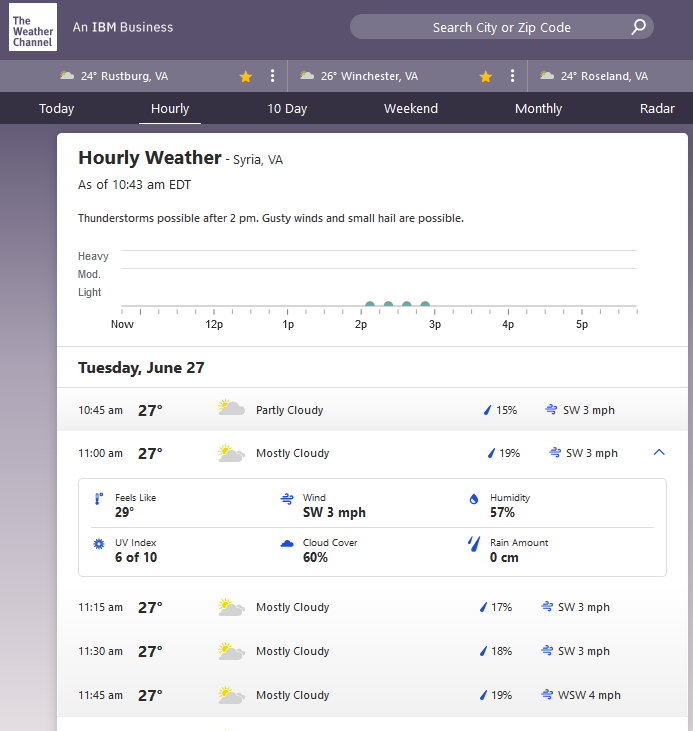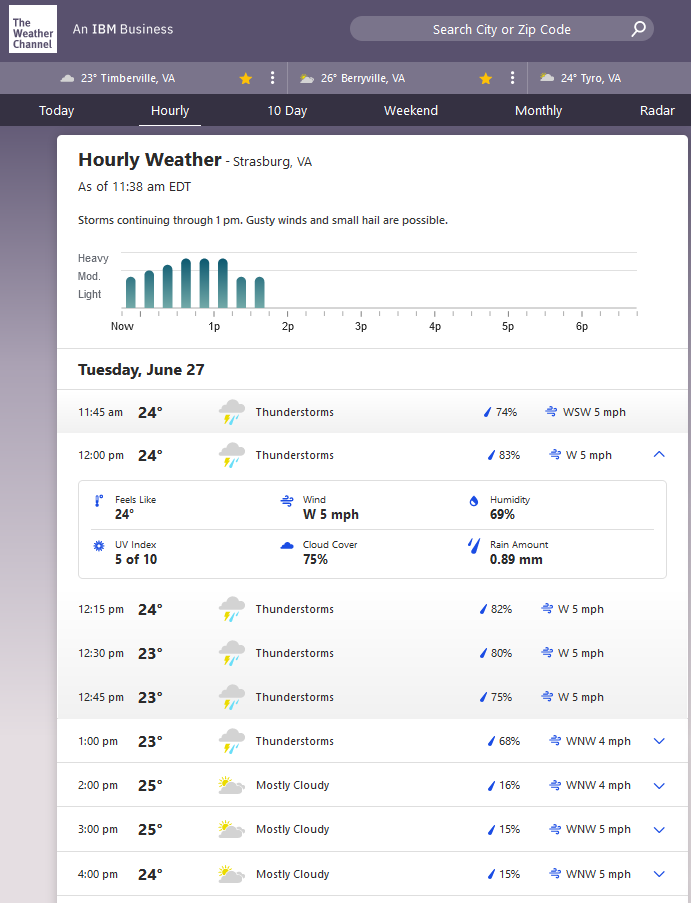 2. Apple bitter rot infections are favored by hot weather periods with warm nights interspersed with rain and high humidity, which is now. The pressure for bitter rot infections in Virginia starts from around Mid-May (south VA) to the end of May/early June (Northern VA). Below I suggest two examples of a line up of fungicide covers spray mixes from 1st to the last cover, just before harvest, with one case for early maturing cultivars (A), and the other for late maturing cultivars (B). You can change these to fit your budget and liking but the key points why you should consider these lineups below are:
(I) Do not use more then 4 spray applications per year of any of the effective Group 11 fungicides (Flint Extra, Luna Sensation, Merivon, Pristine). Yes, that means only four applications per year of one material alone or a combination of several of these materials applied during the summer to a total of 4 cover spray applications per year (No, you cannot apply 4 covers sprays of Merivon, 4 or Pristine, and 2 of Flint Extra per year: that is wrong and will create a huge risk for Group 11 fungicide resistance development in Colletotrichim species). Also, do not apply 4 consecutive cover sprays of Group 11 fungicides or any other single site fungicides. You can apply two back-to-back, then the third cover spray use a different group (class) of a single site fungicide.
(II) Incorporate Aprovia (Group 7) and Omega (Group 29) into your cover spray lineup to be alternated from cover to cover with the above Group 11 fungicides as these two new materials are effective for bitter rot control and are different single-site groups (classes) of fungicides attacking different sites in the Colletotrichum fungi which cause bitter rot. This is essential for preventing Group 11 fungicide resistance to develop in Colletotrichum fungi that cause bitter rot, and will offset selection pressure by the Group 11 fungicides.
(III) Always combine any single-site fungicide (e.g. Frint Extra, Aprovia, Omega) with at least 2.5 or 3 lbs of Captan 80 WDG (or equivalent amount of the captan in any other formulations of your choice) OR Ziram (6 lbs/A). Captan and ziram are the multi-site materials in Groups M04 and M03. The use of multi-site fungicides in mix with single-site fungicides is your second line of defense against fungicide resistance developing in Colletotrichum fungi that cause bitter rot. Adding captan or ziram broadens the spectrum of spray mix efficacy, thus reducing the risks for fungicide resistance development.
(IV) One cover spray is worth: 14 days or 2 inches of rain (in one or several rain events), whichever comes first. If no rain falls during 14 days after the previous cover spray, by any chance, you can extend the spray interval to 21 days, under the condition that no rain occurs during the 7 additional days. If a rain event occurs during the additional 7 days, apply a fungicide before that rain regardless if you reached 21 days or not. If 2 inches of rain occur before 14 day interval expires, you need to re-apply your cover spray immediately and not wait until 14th day from your previous cover spray. This is based on the fact that with 2 inches of rain or more your fungicide spray residues in the canopy are depleted beyond necessary efficacy to protect apple fruit from bitter rot.
(A) early maturing cultivars:
1C: Inspire Super 12 fl oz/A + Captan 80 WDG 3 LB/A
2C: Topsin M 1 lb/A + Captan 80 WDG 3 lb/A
3C: Topsin M 1 lb/A + Captan 80 WDG 3 lb/A
4C: Prophyt 64 fl oz/A + Captan 80 WDG 3 lb/A
5C:  Aprovia 7 fl oz/A + Captan 80 WDG 3 lb/A
6C:  Flint Extra 2.9 oz/A + Captan 80 WDG 3 lb OR Luna Sensation 4-5.8 fl oz + Captan 80 WDG 3 lb
7C: Omega 500 13.8 fl oz/A + Captan 80 WDG 3 lb/A
8C: Pristine 14.5 oz/A + Captan 80 WDG 3 lb/A
9C: Captan 80 WDG 3 lb/A
10C: Merivon 5.5 fl oz/A + Captan 80 WDG 3 lb/A
11C: Merivon 5.5. fl oz/A + Captan 80 WDG 3 lb/A
Harvest
(B) Late maturing cultivars:
1C: Inspire Super 12 fl oz/A + Captan 80 WDG 3 LB/A
2C: Topsin M 1 lb/A + Captan 80 WDG 3 lb/A
3C: Prophyt 64 fl oz/A + Captan 80 WDG 3 lb/A
4C:  Aprovia 7 oz/A + Captan 80 WDG 3 lb/A
5C:  Aprovia 7 oz/A + Captan 80 WDG 3  lb/A
6C: Flint Extra 2.9 oz/A + Captan 80 WDG 3 lb/A OR Luna Sensation 4-5.8 fl oz + Captan 80 WDG 3 lb
7C: Omega 500 13.8 fl oz/A + Captan 80 WDG 3 lb/A
8C: Omega 500 13.8 fl oz/A + Captan 80 WDG 3 lb/A
9C: Pristine 14.5 oz/A + Captan 80 WDG 3 lb/A
10C: Captan 80 WDG 3 lb/A
11C: Merivon 5.5. fl oz/A + Captan 80 WDG 3 lb/A
12C: Captan 80 WDG 3 lb/A
13C: Merivon 5.5 fl oz/A + Captan 80 WDG 3 lb/A
Harvest
---